< Silo | Silo with mechanical cleaning system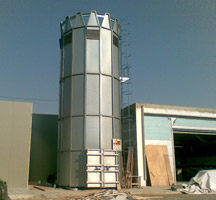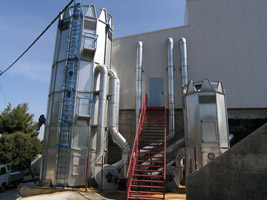 The silos are integrated solutions in dust absorption and air filtration. The specific types of filter silos have the ability to clean the filters by mechanical system (vibration). This type of cleaning is achieving high efficiency up to 97.6% to 1μm.
Silos have the following technical features:
Large air filtering surface and high air flow because it uses the maximum surface of the filter.
Large storage space may exceed the 200 m³
Agitation of the material
Unloading material for collection in a production system (bricket pellets, boilers burning biomass) or in a truck for further transportation and use.
High efficiency dedusting according to the European regulations
Long life of filters.
They have easy access to certain parts of the filters for better monitoring.
They have reduced maintenance cost due to automatic process for cleaning the filters.