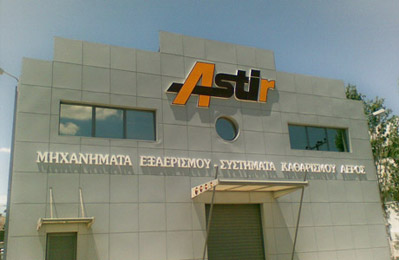 The continuous deterioration of the environment, especially indoors, is currently the subject of serious investigation and research. Environmental protection is now an urgent need and requires specific solutions.
Since 1978, ASTIR company designs and manufactures:
Ventilation equipment
Dust extraction equipment and air cleaning systems
Filter units
Silos
Industrial fans
Paper separators
Boilers
Ducts
Cyclones
Multicyclones
Workbenches
Conveyor Screws
Rotary valves
Activated Carbon Units
Scrubber
Paint booths
ASTIR having the experience and expertise provides reliable, functional and economic solutions to ventilation, dust extraction and absorption issues.
Our systems and equipment meet the needs of filtration and air purification in all industrial units as
Wood and furniture Industries
Paper processing Industries
Chemical industries
Food industry
Foundries
Detergent industry
Fertilizer industry
Further more in all industries which produces pollutants.
The European Union provide specific guidance on the operation of the plants to the cleanliness of indoors to ensure the hygiene of workers, and the limitation of pollutants emitted into the environment.
We are specialized in the field of sanitation in the workplace taking into consideration the EU industry standards ensuring the following:
1. Environmental protection
2. Saving energy (by burning wood chips or solid fuel)
3. Safety and Hygiene to workplace
Our company further to all above mentioned, stands for the know-how, modern machinery equipment and prompt response to maintenance and repair.
ASTIR is an ISO 9001:2008 certified company
Also we support fire safety systems in industrial plants. The mandatory fire protection system installed in both units handle flammable materials, as a precaution.
The current legislation shall determine the required installation of fire safety (ATEX) .